Get that job, sis! (Part 1)
Part 1: Find the Job with Elysse, NCA
Date: Tuesday, April 18th 2023
Time: 1:00-2:00 PM CDT
Location: Zoom
About this event
Finding job postings and preparing for interviews can be intimidating – especially in a male dominated field like STEM! To continue our commitment with women in STEM, our monthly mentorship program, STEM Circuits, is excited to host a Spring Career Development Mini-Series where we will navigate together how to find the perfect job for you and ace the interview.
Planning a Career Path
Elysse Longiotti (she/her)
Associate Director of Student Career Advising + Advising Doctoral Students
TGS, Northwestern University
As an Associate Director of Student Career Advising with Northwestern University's central career office, Elysse supports the career exploration of over 3400 doctoral students across 62 departments. In partnership with The Graduate School, academic departments, and graduate student organizations, she facilitates workshops and events to help students pursue career paths in academia and beyond. As a career adviser, Elysse supports doctoral students' individual career exploration processes – providing guidance from reflection to negotiation. Her higher education experience includes career advising; graduate student recruitment; and program development specifically for first generation, underrepresented, international, and veteran student populations.
Goals for this meeting:
Context for career decision making process
Vocabulary and framework to identify and describe skills and interests
Consider your skills and values while networking and exploring career options
Online Resources:
Exploration:

myIDP: career-planning tools that help PhD students and postdocs in STEM plan their career path (created by AAAS)

Intersect Job Simulations: nice partner to myIDP, includes "sample projects" which provide simulations of what a typical task in a job may look like (created by the Graduate Career Consortium)

Networking:

Professional Associations and Organizations

Alumni Associations at your institution

LinkedIn: online social professional network, find individuals/alumni from your institution
Job Search Process:
Source: "Putting Your Science to Work: Practical Career Strategies for PhDs" Peter Fiske, PhD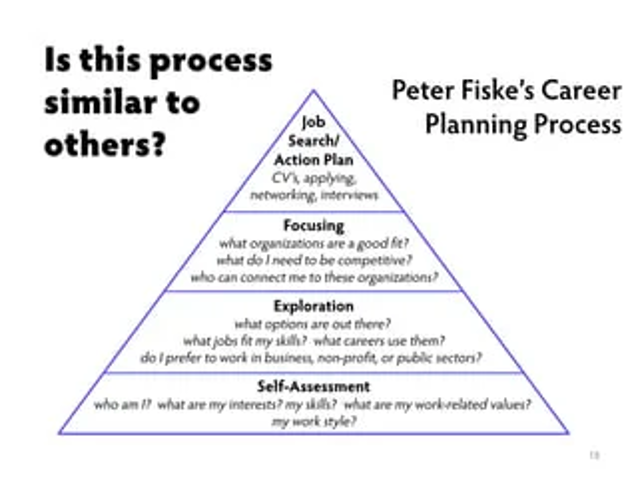 Skills Assessment and Reflection
Fill out document: GradMap (attached)
Consider your TOP 5 skills! Are you using/not using these top 5 skills in your current position and service commitments?
Action Items:

Consider how each of these skills make you feel (ex. motivated vs burnt out)

Identify positions leveraging your strengths and desired skill set

Determine if there are any gaps in your skill set → find ways to fill this gap!

Talk to current people with your desired job to see what skills are absolutely necessary and what can be learned on the jon
Attributed Employers Seek on a Candidate's Resume
Problem-solving skills
Analytical/quantitative skills
Ability to work in a team (especially with people OUTSIDE your field)
Communication skills (written and verbal)
Self-driven initiative
Strong work ethic
Technical skills
Flexibility/adaptability
Detail oriented
Leadership skills
Values Assessment and Reflection
Fill out document: Values PhD (attached)
Consider your TOP 5 values!
Which of your values originate from external influences (ie. family, peers, mentors)?
Consider how you would feel in a role if one of your core 5 values was unfulfilled? How would this impact your work?
Action Items:

Develop questions to ask during an interview to determine your value-fit

Determine which values are negotiable and which are non-negotiable, in the short-term and long-term (ie. location is not important short-term, but is long-term if you know where you'd like to settle down)
Building and Developing a Professional Network
Continue to meet and talk to people in roles or organizations you are interested in
Hidden job market: many jobs are never publicly advertised → by talking to and meeting new people, you will find out about these roles
Develop an Online Presence

LinkedIn Profile: strong headline, concise summary

LinkedIn Connections: 1. connect to someone; 2. Follow up with a message

Informational interviews:

Initial request: write an effective but thoughtful email

Don't ask for a job, don't send your resume before asked

Ask to set up a 30 minute phone call

Questions to ask: company culture, career path, industry landscape, job specifics

Questions *not* to ask: salary and offer specific questions
Q&A Session
Q: How can I transition from a wet-lab role to a non-wet-lab role?

A: What are new skills that need to be developed?

Q: How early is too early to start the job search?

A: It all depends on the recruiting timeline for your desired roles. It's always good to get a head start on networking and exploring opportunities so that you are well set up for when you actually start applying to roles.

Q: Do you have specific advice for people changing their geographic location for example outside the USA?

A: Use GoinGlobal to understand immigration and visa requirements before applying to jobs in other countries

Q: How do you navigate the current job market that is so referral driven when you are newly transitioning from academia to an industry and you are on a visa timeline?

A: Get in touch with your institutional international student office