Stem Circuits: Careers at the Intersection of STEM and Law
Date: February 11th, 2020
Location: Northwestern Pritzker School of Law
375 East Chicago Avenue, Room RB 150, Chicago, IL 60611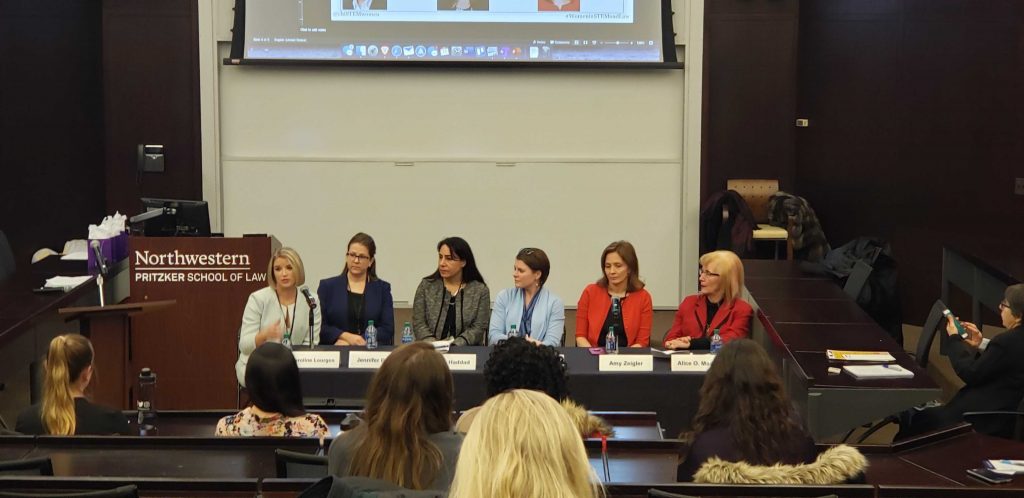 Caroline Lourgos, JD obtained her undergraduate degree in computer science at Northwestern University. She now works at Kirkland and Ellis focusing on patent litigation. She also works in intellectual property disputes. She uses her technical undergrad for helping in biotech, medical devices, computing, chemistry, and consumer goods.
Jennifer Bogs, MBA, JD studied environmental law at Loyola University. She worked as an environmental scientist as well as in environmental management. Bogs discussed how she was looking for a way to merge business, law, and science into her career. She now works at Great Lakes Coca-Cola bottling as a Scientific Consultant. She mainly advises the company on how to stay in compliance. She expressed how she enjoys working with people from varying fields and backgrounds.
Donna Haddad, JD is a member of senior legal counsel at IBM. For her undergraduate degree, she studied economics and political science at Northwestern which is also where she obtained her law degree. She began her career in litigation. However, her career then evolved into working on artificial intelligence international assignment to other countries. She currently works at IBM on the Watson project.
Kate Cosgrove Booth, PhD, MSL is a scientist who obtained her PhD in neuroscience at the University of Pittsburgh. She then was offered a post-doctoral position at Northwestern. However, she then discovered that she was not as passionate about the sciences as she had previously thought. From there, she followed a few different careers to decide where her interests lied. She went from scientific writing and editing, to communication, and then onto STEM education. Working in these various fields helped her develop numerous skills that eventually led her to pursue her current position as Conflict of Interest Director at Northwestern.
Amy Ziegler, JD developed her love for physics during high school, which stemmed from a phenomenal high school teacher. This led her to pursue an undergraduate physics degree at DePaul University. Post graduation, she was offered a job at Argonne National Laboratory to maintain the beam and troubleshooting issues. However, she realized that she wanted to go back to school. She decided to return to DePaul to attend law school. After pursuing a career in patent law, she eventually realized that trademark law was the right path for her. Her job consists of monitoring counterfeit items on the market and mitigating them. She implemented her coding background to automate different processes at Greer, Burns & Crain, LTD, which Ziegler enjoys.
Alice O. Martin, PhD, JD thought from a young age that she would be a ballerina. She taught dancing for many years after college and went on to pursue a graduate degree at the University of Michigan in genetics. She then transferred to Case Western Reserve University after her husband obtained a job in Cleveland. Following the end of her marriage, she felt the freedom to be able to start her career over and transfer to Northwestern. As a result, she worked her way up to to running her own laboratory as a tenured faculty member all while attending law school part-time at Loyola University. She currently works at Barnes & Thornburg LLP.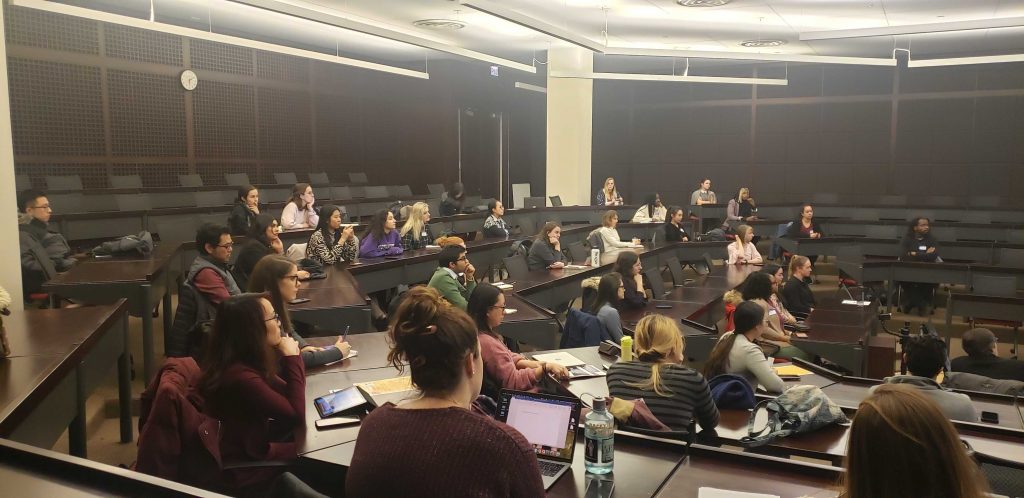 Question and Discussion Session Takeaways
The panel urged attendees to join professional groups
Make sure to network during the course of your education
Push yourself, and assert yourself unapologetically when working with all male groups. Upper levels of law is male dominated. You have to make sure to advocate for yourself. Get in the practice of doing that. The more practice, the better.
Thoughts on moving out of science: "Highs aren't as high, lows aren't as low."
This event, held on the Chicago campus, was attended by close to 50 researchers from across Northwestern, UIC, and U of Chicago. We thank everyone for attending, asking insightful questions, and making this event a great success!
Written by:
Kacey Suvada
Neuroscience PhD Candidate
Northwestern University Feinberg School of Medicine