---
Increasing LGBTQ+ Representation in the STEM Community – November 4th, 2021
The Association for Women in Science-Chicago area chapter is pleased to be partnering with the Chicago Council on Science and Technology (C2ST) and the Northwestern University Institute for Sexual and Gender Minority Health and Wellbeing to host Increasing LGBTQ+ Representation in the STEM Community on the evening of Thursday, November 4th, 2021, from 5:30-7:30 PM. This will be a hybrid event with the option for in-person attendance at Hughes Auditorium (303 E Superior Street, Chicago, IL 60611). The event will consist of pre-event networking, a mini-keynote followed by a panel with audience Q&A, and post-event networking. Our mini-keynote will be delivered by Dr. Luis Leyva (Assistant Professor, Mathematics Education, Department of Teaching and Learning Faculty Affiliate, Women's & Gender Studies Program) of Vanderbilt University. The event will focus on building equity for our LGBTQIA+ community in STEM. Registration is FREE – read more about this event and sign up to attend here.
---
AWIS-CAC Annual Awards & Networking Event – November 11th, 2021
Join the Association for Women in Science-Chicago area chapter at Rhine Hall Distillery (2010 W. Fulton St., Chicago, IL 60612) for our Annual Awards and Networking Event on Thursday, November 11th, 2021, from 6-7:30 PM! This year we will be celebrating the winners of our Innovator and Motivator Awards with an in-person event featuring networking and cocktail hour. ALL are welcome, but space is limited! Register to attend here.
With your ticket purchase you will receive access to an open bar with a selection of cocktails, mocktails, beer, and wine, along with lite bites.
Event Schedule
6-6:20: Arrival
6:20-6:30: Welcome by Dr. Amanda Schalk, previous AWIS Chicago Innovator Award Winner
6:30-6:45: Presentation of 2021 Innovator and Motivator Award Winners
6:45-7:30: Networking
---
WIB Chicago – Hidden Figures in STEM 2/25/21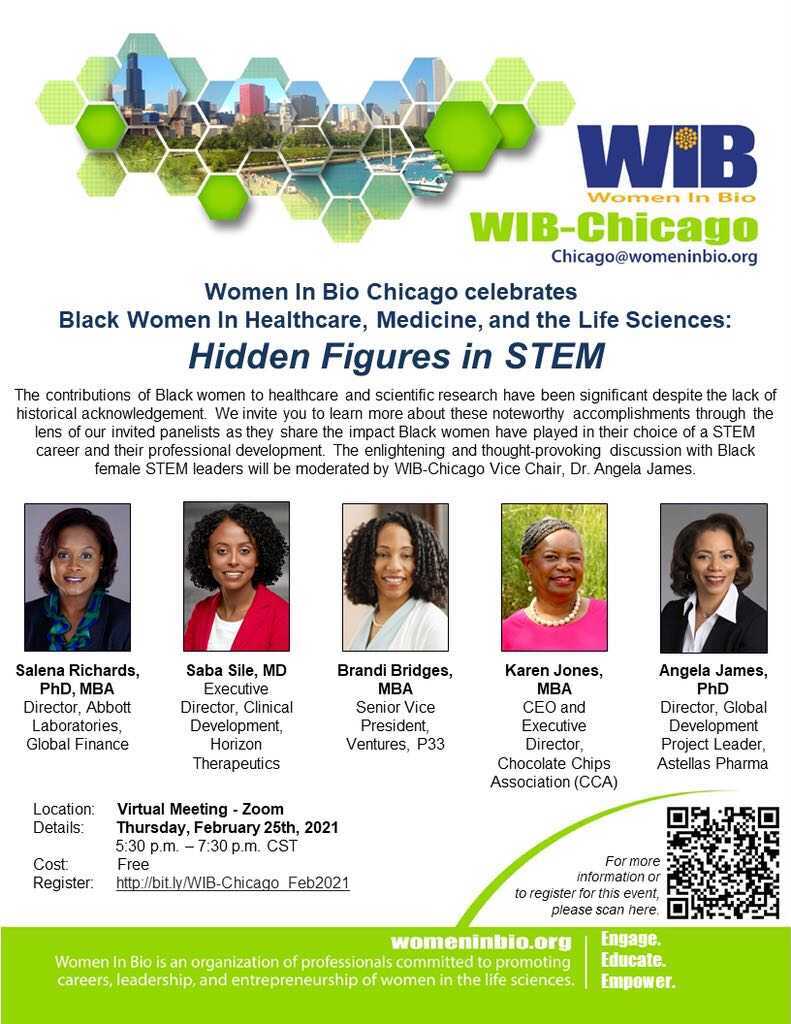 ---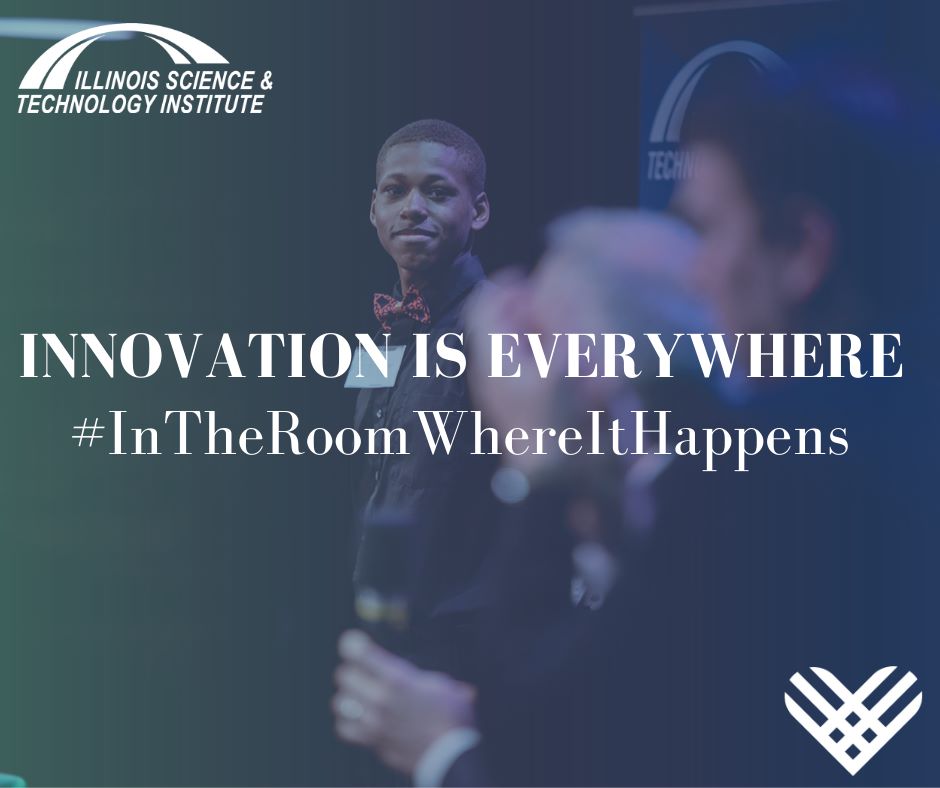 The Illinois Science and Technology Institute (ISTI) is hosting our first ever Virtual Career Fair on December 1st 2020! We believe that innovation happens everywhere; it is not confined to a laboratory, classroom, or office space. To celebrate the fact that innovation happens everywhere, we are transforming our Facebook page for a day of virtual learning. From 9:00AM CST to 5:00PM CST we are featuring non traditional STEM professionals from a breadth of industries. We have the following presenters lined up: Cloud Solutions Architect, Sports Medicine Specialist, Genetic Counselor, Food Scientist and Flavorist, Medical Illustrator, Props Artist, and a Financial Director.

Our goal is to extend the definition of STEM for students across the state. Giving students exposure to different career paths helps them to develop their own identity within STEM. We also believe that representation matters and are proud to promote innovative leaders that are women and BIPOC folx.

The Virtual Career Fair is part of our #GivingTuesday campaign on December 1st to raise money for school scholarships. Throughout the campaign we are highlighting the creativity, resilience, and resourcefulness of our community. We want our students and teachers reminded that no matter their environment or circumstances, they can do amazing things. We want our students to be the ones #InTheRoomWhereItHappens.

Looking to support ISTI's mission? Tune in on December 1st or donate early!

Give before December 1st and you'll be eligible for the early bird raffles from our supporters at Chicago Wolves, Lou Malnatis, Stretch Lab, Pretty Cool Ice Cream, Trader Joes, Portillos, and more!

Follow @theISTI on Facebook for more information or donate today! https://www.istcoalition.org/education-programs/individual-giving/
---
Field Museum – 6th Annual Women in Science Mixer
A virtual panel discussion followed by small group conversations with our scientists
Date: Thursday, October 29th
Panel discussion: 6:30 – 7:30pm CDT
Breakout sessions: 7:45 – 8:15pm CDT
Please register online HERE. (Zoom links will be sent after registration)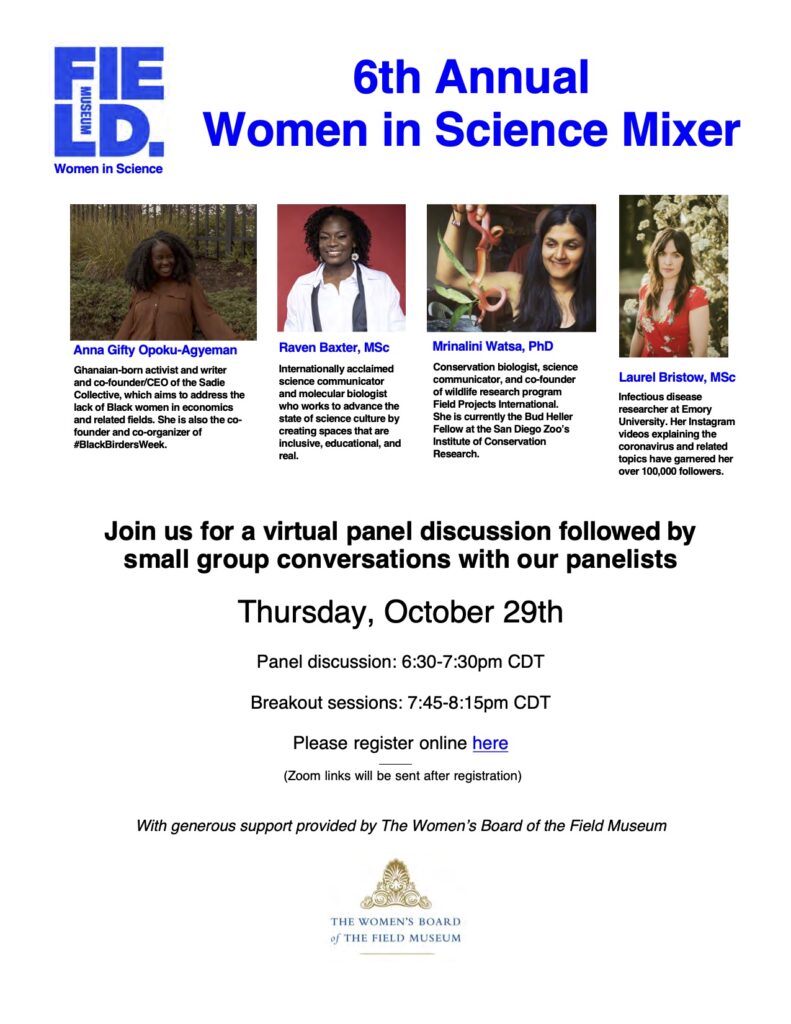 ---
2020 Chicago Biomedical Consortium Symposium & Call for Posters: Epigenetics and Disease
The 17th Annual CBC Symposium "Epigenetics and Disease" on October 30, 2020 is open for registration, sign up on the Online Registration Form. With currently over 230 people registered, this is a highly anticipated virtual event with a stellar lineup of speakers!

This year the CBC Symposium includes a Virtual Poster Session that will be hosted on the CBC website a week before the symposium and a Twitter Poster session for interactive viewing and discussions on the day of the symposium. Abstracts and posters can be submitted online through the CBC website's Call for Posters Submission Form. The submission deadline has been extended to Friday, October 16, 2020.
Further details about the Virtual Poster session are available on the CBC website within the Call for Posters Submission Form and in the CBC Twitter Poster Guidelines. Feel free to contact Corinna Kitcharoen at ckitch1@uic.edu with any questions.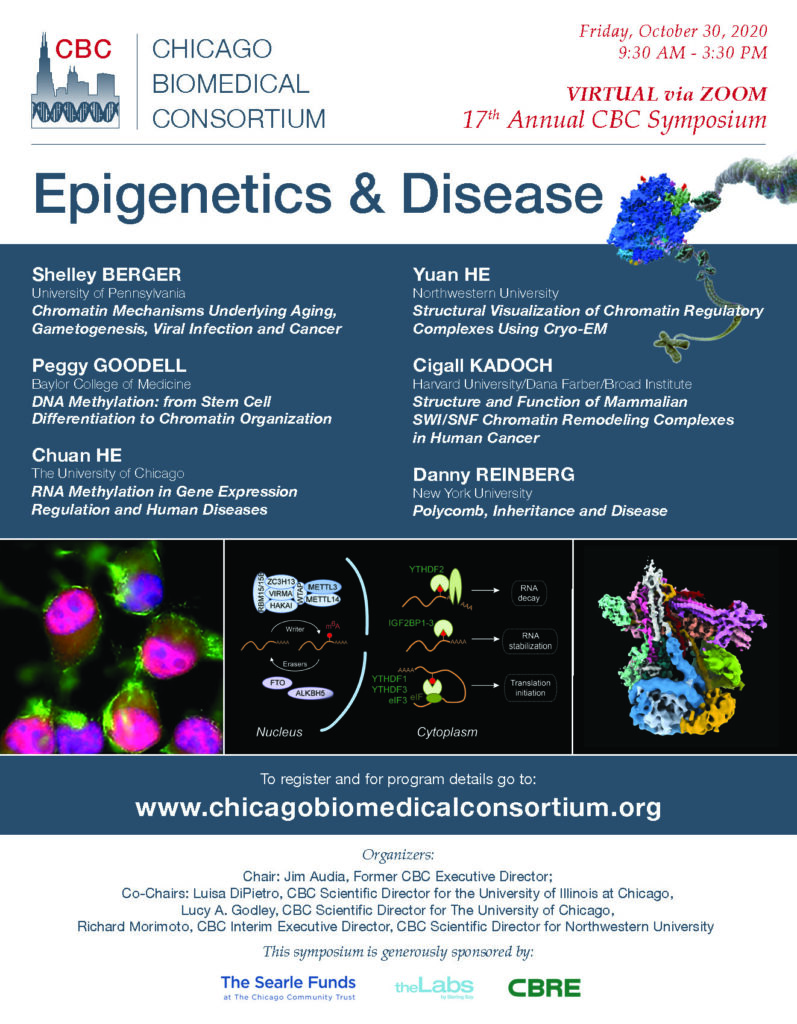 ---
NUPA: Breaking Barriers
A Virtual Professional Development Series
This year the NUPA symposium will consist of several panels and workshops hosted on Zoom. Here's how it will work:
Register for each event separately on Eventbrite.
Add the date and time to your calendar. All events will take place on Thursdays at 3 PM CT.
You'll receive a link to join the webinar in your email.
We can't wait to see you this summer on Thursdays at 3 PM!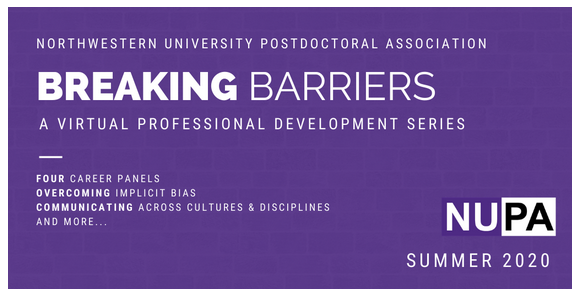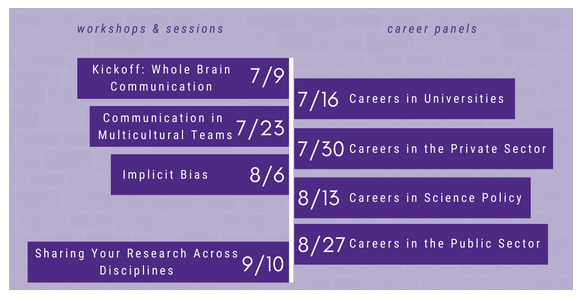 ---
Navigating Your Science Career
Date & Time: Wednesday, March 11th @ 4:00 pm
Location: Cohen Commons (Tech L482), Northwestern University Evanston Campus

Join the Chemistry of Life Processes (CLP) for their second of three 'CLP Spills the Tea' programs celebrating 150 Years of Women at Northwestern!
This event will feature top women faculty at NU, who will provide advice for interviewing and overcoming gender-based workplace challenges in order to become a leader in your field. Additionally, the panel will be facilitated by the vice provost of the university who can add input into what central administration looks for in a hire that is recommended up by a department.
---
Faces of Science Workshop on social identities and intersectionality for diversity, equity, and inclusion
Date & Time: Feb 28th @ 3:30 pm
Location: Ryan Hall (Nano) Room 1004, Northwestern University Evanston Campus
---
"From Solid State Chemistry to Coordination Chemistry to the Science of Science Knowledge: Diversity in Scholarship at a PUI"
Date & Time: Feb 28th @ 2:oo pm
Location: Ryan Hall 4003, Northwestern University Evanston Campus
---
"Chemist by Day, Social Justice Warrior by Night, Using My Gay Superpowers to Create Inclusive Excellence in My PUI Career Path (What is a PUI career path anyway and how is that job search different?)"

Date & Time: Feb 27th @ 4:oo pm
Location: Pancoe Auditorium, Northwestern University Evanston Campus
This is a good event for those of interested in what a possible faculty career looks like. This event will also highlight the differences in science research at a primarily undergraduate institution (PUI) versus an R1 institution like Northwestern that has more graduate students than undergraduates.
---
---
WIB-Chicago: The Journey to Being a Board Member: A Personal Story and Practical Advice
Thursday, February 27, 2020
5:30 p.m. – 8:00 p.m. CST
Northwestern University, Lurie-Baldwin Auditorium
303 E. Superior St.
Chicago, IL 60611
United States
More information and tickets are available here.
---
C2ST Fall Social at Beermiscuous
by The Chicago Council on Science and Technology
November 7, 2019
6:00 pm – 8:30 pm
More information and tickets are available here.
---
How Sexual Harassment Culture Infects Academia
by The Chicago Council on Science and Technology
March 21, 2019
6:00 pm – 8:00 pm

Hughes Auditorium, Robert H. Lurie Building, Northwestern University Chicago Campus
303 East Superior Street, Chicago, IL, USA
More information and link to registration can be found here.
Diversity in academia is in the public spotlight. Yet, despite some important strides for women in academic science careers, many workplaces and their cultures discriminate against women and can endanger them – professionally, psychologically, and even physically. Recent findings have played an important role in shaping new policies at field sites, universities, professional organizations, and funding agencies. Rutherford and Arreola will summarize this work and share suggestions from the evidence and from the recent NASEM (The National Academies of Sciences, Engineering, and Medicine) #ScienceToo report for improving the academic climate for women, sexual minorities, nonbinary persons, and people of color. The responsibility of senior researchers, advisors, and university leadership towards young women entering academia will be emphasized.
---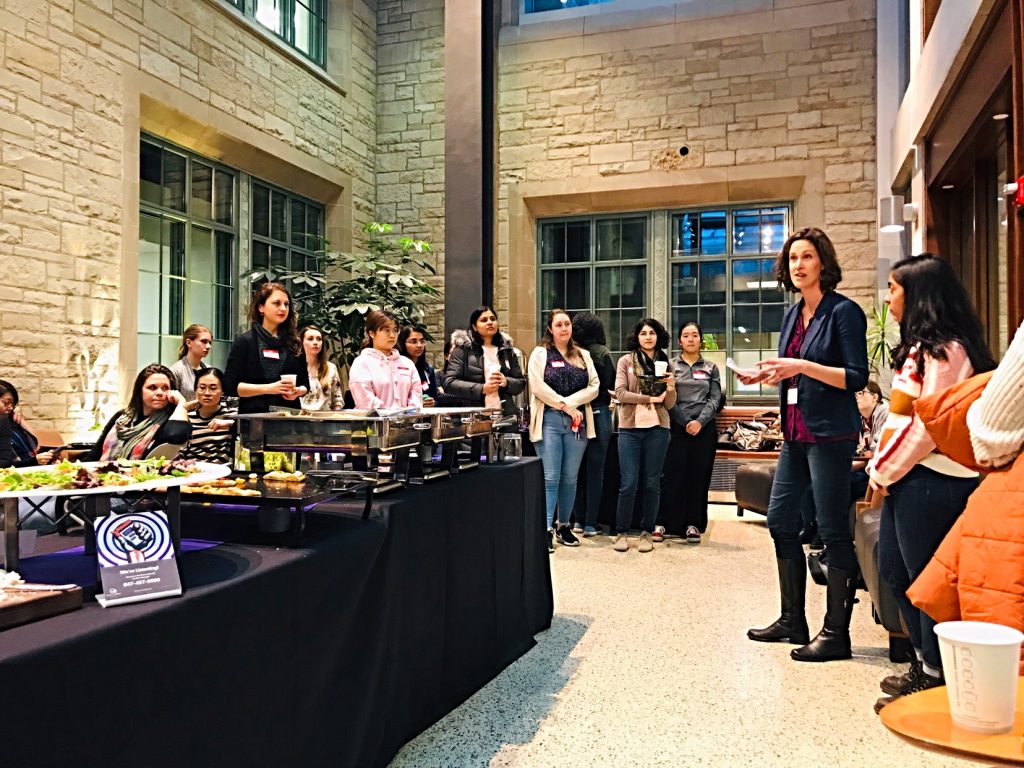 A recent Northwestern Now article announced that the Chicago Women in STEM Initiative is a recipient of the Daniel I. Linzer Grant for Faculty Innovation in Diversity and Equity
Chicago Women in STEM Initiative

Funds will be used to host an International Women's Day day-long conference for Chicago Women in STEM to raise community awareness of implicit bias and teach tools for combatting bias. Funds also will support the establishment of STEM Circuits, a yearlong peer-mentoring circle program aimed primarily at women graduate students and postdocs in STEM fields.
Yarrow Axford, Weinberg, Earth and Planetary Sciences
Colleen Zaccard, Feinberg School of Medicine, Physiology
Nancy Schwartz, University of Chicago, Pediatrics