---
NUPA: Breaking Barriers
A Virtual Professional Development Series
This year the NUPA symposium will consist of several panels and workshops hosted on Zoom. Here's how it will work:
Register for each event separately on Eventbrite.
Add the date and time to your calendar. All events will take place on Thursdays at 3 PM CT.
You'll receive a link to join the webinar in your email.
We can't wait to see you this summer on Thursdays at 3 PM!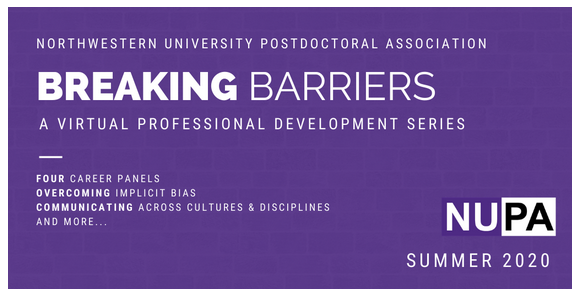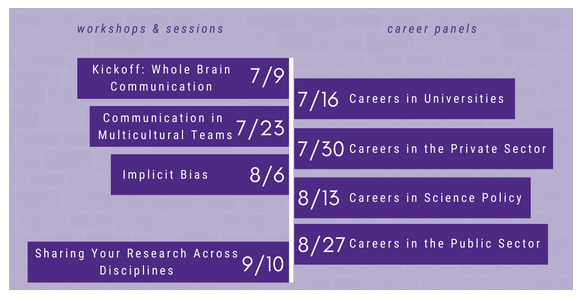 ---
Navigating Your Science Career
Date & Time: Wednesday, March 11th @ 4:00 pm
Location: Cohen Commons (Tech L482), Northwestern University Evanston Campus

Join the Chemistry of Life Processes (CLP) for their second of three 'CLP Spills the Tea' programs celebrating 150 Years of Women at Northwestern!
This event will feature top women faculty at NU, who will provide advice for interviewing and overcoming gender-based workplace challenges in order to become a leader in your field. Additionally, the panel will be facilitated by the vice provost of the university who can add input into what central administration looks for in a hire that is recommended up by a department.
---
Brave Initiatives Event: Brave Bash 2020
*Volunteers Needed*
Event: Brave Bash 2020
Date: March 6, 2020
Time: 6:00 pm – 9:00 pm
Location: Uptake (600 W Chicago Ave, Chicago, IL 60654)
Brave Bash is our annual fundraising event. We invite guests to hear from the impact that Brave Initiatives has on our students and celebrate the work we've done this past year. The purpose of the event is to raise as much money as we can to cover the cost of running BraveCamps during the summer so they are free for our students, who predominantly come from low-income communities, to attend. During BraveCamps, students learn design thinking, coding, and leadership skills which they use to build a website or an app addressing issues in their communities, ranging from gun violence to clean food.
Food will be provided for volunteers.
Volunteer HERE
Brave Initiatives Brave offers an empowering and transformative one-week experience where girls not only learn how to code but also to learn that their voice matters and that they can make a difference. Through an emphasis on design thinking, empathy development, and leadership skills, Brave challenges girls towards building ethical technology with a meaningful purpose. Since we were founded in 2015, we've reached over 500+ girls.
---
Faces of Science Workshop on social identities and intersectionality for diversity, equity, and inclusion
Date & Time: Feb 28th @ 3:30 pm
Location: Ryan Hall (Nano) Room 1004, Northwestern University Evanston Campus
---
"From Solid State Chemistry to Coordination Chemistry to the Science of Science Knowledge: Diversity in Scholarship at a PUI"
Date & Time: Feb 28th @ 2:oo pm
Location: Ryan Hall 4003, Northwestern University Evanston Campus
---
"Chemist by Day, Social Justice Warrior by Night, Using My Gay Superpowers to Create Inclusive Excellence in My PUI Career Path (What is a PUI career path anyway and how is that job search different?)"

Date & Time: Feb 27th @ 4:oo pm
Location: Pancoe Auditorium, Northwestern University Evanston Campus
This is a good event for those of interested in what a possible faculty career looks like. This event will also highlight the differences in science research at a primarily undergraduate institution (PUI) versus an R1 institution like Northwestern that has more graduate students than undergraduates.
---
---
WIB-Chicago: The Journey to Being a Board Member: A Personal Story and Practical Advice
Thursday, February 27, 2020
5:30 p.m. – 8:00 p.m. CST
Northwestern University, Lurie-Baldwin Auditorium
303 E. Superior St.
Chicago, IL 60611
United States
More information and tickets are available here.
---
C2ST Fall Social at Beermiscuous
by The Chicago Council on Science and Technology
November 7, 2019
6:00 pm – 8:30 pm
More information and tickets are available here.
---
How Sexual Harassment Culture Infects Academia
by The Chicago Council on Science and Technology
March 21, 2019
6:00 pm – 8:00 pm

Hughes Auditorium, Robert H. Lurie Building, Northwestern University Chicago Campus
303 East Superior Street, Chicago, IL, USA
More information and link to registration can be found here.
Diversity in academia is in the public spotlight. Yet, despite some important strides for women in academic science careers, many workplaces and their cultures discriminate against women and can endanger them – professionally, psychologically, and even physically. Recent findings have played an important role in shaping new policies at field sites, universities, professional organizations, and funding agencies. Rutherford and Arreola will summarize this work and share suggestions from the evidence and from the recent NASEM (The National Academies of Sciences, Engineering, and Medicine) #ScienceToo report for improving the academic climate for women, sexual minorities, nonbinary persons, and people of color. The responsibility of senior researchers, advisors, and university leadership towards young women entering academia will be emphasized.
---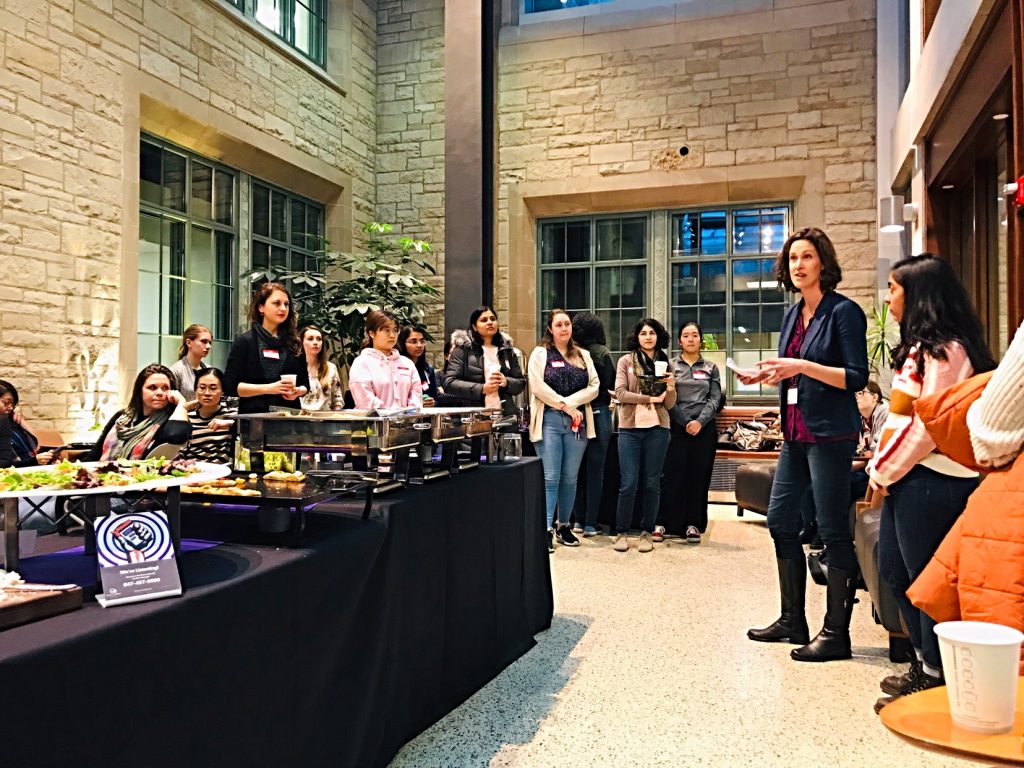 A recent Northwestern Now article announced that the Chicago Women in STEM Initiative is a recipient of the Daniel I. Linzer Grant for Faculty Innovation in Diversity and Equity
Chicago Women in STEM Initiative

Funds will be used to host an International Women's Day day-long conference for Chicago Women in STEM to raise community awareness of implicit bias and teach tools for combatting bias. Funds also will support the establishment of STEM Circuits, a yearlong peer-mentoring circle program aimed primarily at women graduate students and postdocs in STEM fields.
Yarrow Axford, Weinberg, Earth and Planetary Sciences
Colleen Zaccard, Feinberg School of Medicine, Physiology
Nancy Schwartz, University of Chicago, Pediatrics