Keynote Address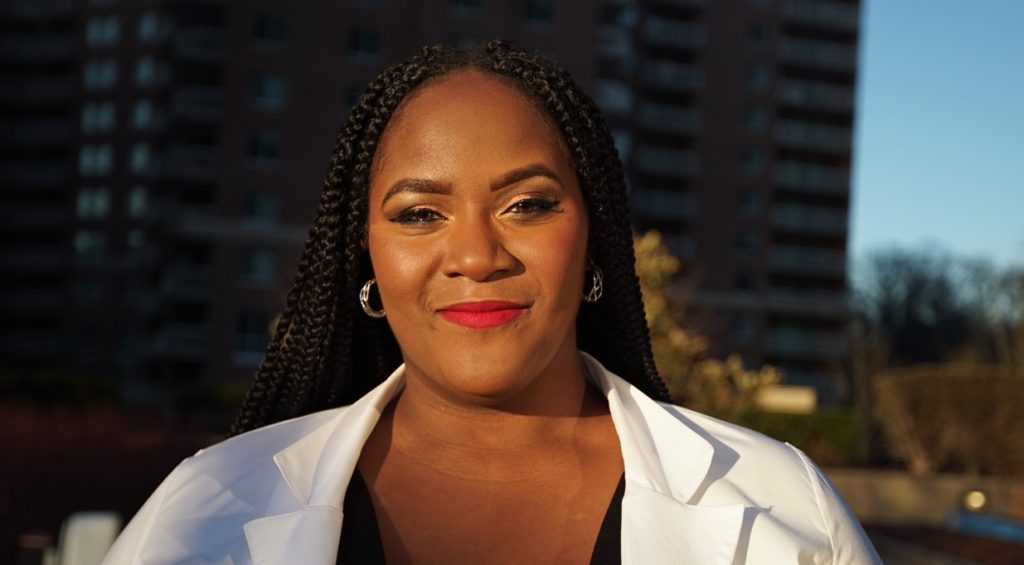 Dominique Carter, PhD, is an interdisciplinary scientist, diplomat, and entrepreneur. Over the course of her early career, she has contributed to the development of a diverse, globally-engaged workforce by supporting international research and research-related activities for U.S. science and engineering students. Dr. Carter currently serves as an Agricultural Science Advisor for the USDA Department of Agriculture (USDA) Office of the Chief Scientist, where she advises the Chief Scientist on policy development pertaining to agricultural research and education. In the community, Dr. Carter is the Professional Development Chairperson for the National Society for Black Engineers (NSBE) Washington, DC Professionals Chapter and the American Society for Microbiology (ASM) Young Ambassador for Washington, DC. She is also an Advisory Council Member for the Harvard Business Review (HBR) and on the Advisory Board for SIA-Africa, a non-profit organization working to develop sustainable global alliances in science and education across Africa. As such, Dr. Carter is the Founder of Global STEM Solutions, LLC, a boutique consulting firm providing thought leadership and counsel for developing international partnerships in STEM education and research. A Chicago native, Dr. Carter attained her BS in Chemistry from Saint Norbert College and her PhD in Microbiology and Bioengineering from the Medical College of Wisconsin.
Standing Up: Panel
Jennifer Joe, MD, Physician, Boston VA Healthcare System; Founder & CEO, Vanguard.Health is a Harvard-affiliated Massachusetts General Hospital (MGH) and Brigham and Women's Hospital (BWH) nephrology graduate turned physician entrepreneur CEO and Co-Founder of Medstro & MedTech Boston, and now Founder and CEO of Vanguard.Health. Founded in 2013, Jennifer led Medstro & MedTech Boston through acquisition and integration in 2019 to the largest privately held healthcare communications company in the US. Vanguard.Health currently holds a 5-year Open Innovation Services 2 Contract with the Center of Excellence for Collaborative Innovation under NASA. Dr. Joe is a practicing emergency room, urgent care, and hospitalist physician at 3 Boston hospitals where she also oversees students, residents, and fellows training. The daughter of poor immigrants who fled war and poverty with no education and speaking no English and having grown up in rural Mississippi (the poorest part of the US), Jennifer is committed to community building, providing opportunities to the traditionally marginalized, and providing basic healthcare to everyone, despite socioeconomic, racial, or geographic status.
Miiri Kotche, PhD, is Associate Dean for Undergraduate Affairs in the College of Engineering and Clinical Professor in the Richard and Loan Hill Department of Bioengineering at the University of Illinois at Chicago.  Her research focus is in engineering and interdisciplinary education and has developed broad experience in administration while excelling as a classroom instructor and researcher. She leads NIH-funded programs, including Bioengineering Experience for (High School) Science Teachers and a Clinical Immersion internship program for bioengineering and medical students, and helped to create the College's Freshman Engineering Success Program.  Miiri has been recognized as a U.S. Fulbright Scholar, a 2020 "notable woman in STEM" by Crain's Chicago Business , UIC Master Teaching Scholar, UIC College of Medicine Rising Star, and is the 2019 recipient of the highest teaching distinction in the College of Engineering, the Harold Simon Excellence in Teaching Award.
Paola Wisner, MS, is the VicePresident of Global Research & Development at Hollister Incorporated where she is responsible for leading a team that develops new products and technologies for ostomy care, critical care, and continence care. She was born in Guatemala and after completing her high school education, she moved to New York City to attend Columbia University, where she received her B.S. and M.S. in Biomedical Engineering. In her career, she held positions in New Product Development, Sustaining Engineering, Process and Project Management, Marketing, and R&D.  She is a member of the Society of Women Engineers (SWE), the Society of Hispanic Professional Engineers (SHPE), the International Society of Female Professionals (ISPF), and the Healthcare Businesswoman's Association (HBA). She enjoys mentoring young females in STEM across the World and volunteering time in organizations to help low-income urban youth in Chicago along pathways of success. Paola currently serves on the Midtown Educational Foundation (MEF) Women's Advancement Council and on HBA's Women in Healthcare (WIH) Give Back program.
Catalina Lee-Chang, PhD, is an immunologist, with a strong background in B-cell immunology. She obtained her PhD in Pr. L Prin's lab (EA2686, Lille, France) where she studied the place of B-cell-mediated immune response in chronic inflammatory disease such as multiple sclerosis (MS). She joined the NIH (Baltimore, MD, USA) as postdoctoral trainee to study the role of cellular B-cell immunity in cancer escape and metastasis in Dr. A. Biragyn's  Lab. She contributed to the characterization of tumor-evoked regulatory B cells (tBregs) and studied the therapeutic relevance of inhibiting tBregs to successfully fight cancer escape. In addition, she dedicated major part of her research to understand how aging affects B-cell functional plasticity. Among her contribution to the aging immunology field, it is underlined the discovery of a novel pro-inflammatory B-cell subset expressing the costimulatory marker 4-1BBL that strongly control the anti-tumor immunity. She then pursued her scientific career as Research Associate at the Neuroinflammation/MS Team (UMR995, Lille, France) led by Dr. Lennart MARS. Her scientific interest laid on the study of the pathogenicity of the cellular B cell response in chronic inflammation. She is currently an Assistant Professor in Neurological Surgery at Northwestern University and her work focuses on the potential role of cellular B cells in supporting brain tumor.
Standing Up: Workshop
Sally Helgesen, cited in Forbes as the world's premier expert on women's leadership, is an internationally best-selling author, speaker and leadership coach. She has been ranked number 6 among the world's top 30 leadership thinkers by Global Gurus, honored by the coaching consortium MEECO for her transformational influence on organizational cultures and chosen as the Thinkers 50/100 Coaches world's top coach for women leaders. Sally's most recent book, How Women Rise, co-authored with legendary executive coach Marshall Goldsmith, examines the behaviors most likely to get in the way of successful women. It became the top-seller in its field within a week of publication and rights have been sold in 15 languages. Previous books include The Female Advantage: Women's Ways of Leadership, hailed as the classic in its field and continuously in print since 1990, and The Female Vision: Women's Real Power at Work, which explores how women's strategic insights can strengthen their careers. The Web of Inclusion: A New Architecture for Building Great Organizations, was cited in The Wall Street Journal as one of the best books on leadership of all time and is credited with bringing the language of inclusion into business. In addition to delivering leadership workshops and keynotes for companies around the world, Sally has consulted with the United Nations on building more inclusive country offices in Africa and Asia, led programs at the Harvard Graduate School of Education and Smith College and been visiting scholar at Northwestern University, U-Nordic Stockholm, and the Lauriston Institute Melbourne AU. She is a contributing editor for Strategy + Business magazine and a member of the MG 100 Coaching Network and the New York and International Women's Forums. She lives in Chatham, NY.
Standing Out: Workshop
Shiz Aoki is the co-founder and CEO of BioRender, also known as the "Adobe for Science," a software tool that empowers scientists to visually communicate their research. Prior to starting BioRender, she studied at the Johns Hopkins School of Medicine in medical illustration and was lead science illustrator at National Geographic for 8 years. Her passion lies in democratizing science communication via innovative tools to accelerate research and knowledge translation.
Standing Out: Lecture
Molly Perkins, D.Phil, is VP of Research at a biotech startup currently in stealth mode. She completed her bachelor's degree at Harvard College, master's at Cold Spring Harbor Laboratory, and doctorate through the NIH-Oxford Biomedical Sciences Scholars program. Following her postdoctoral fellowship, also at NIH, she worked at Bluebird Bio and Obsidian Therapeutics before founding her current company. Dr. Perkins has expertise in human T cell immunology, with an emphasis on cancer immunotherapy and CAR T cell drug development. She is passionate about building inclusive company cultures and leadership in order to bring new medicines to patients in need.
Dr. Falk-Krzesinski's key role is giving voice to research leaders at universities, funders, and science policy organizations to help Elsevier deliver the most impactful research information solutions to support research globally. Actively involved in the organization's executive-level Inclusion & Diversity (I&D) efforts, advocating for greater gender diversity among STEMM leadership, and promoting sex and gender-based analysis in published scientific studies, Dr. Falk-Krzesinski has been Co-chair of the Gender Equity Taskforce since its inception 6yrs ago as well as co-author on Elsevier's two global gender analytics reports. Dr. Falk-Krzesinski's engagement activities include building partnerships around I&D and equity issues, and she has been leading Elsevier's efforts to consistently collect Gender Identity data across platforms for actionable insight. Prior to joining Elsevier, Dr. Falk-Krzesinski was a faculty member and administrator at Northwestern University where she launched the Office of Research Development to facilitate interdisciplinary collaborative grant proposals and established the Office of Research Team Support & Development at the university's CTSA Hub to drive evidence-based team science. For more than a decade, she has been an influential contributor to a growing community of research development professionals and the international community of practice for team science and the 'science of team science' field, with significant leadership roles with the National Organization of Research Development Professionals (NORDP) and the International Network for the Science of Team Science (INSciTS). Dr. Falk-Krzesinski started her science career in the biomedical sciences and shifted to the social sciences, with experience in the academy, pharmaceutical industry and now in the research information/publishing industry; she continues to teach a grantsmanship course at Northwestern.