Our interdisciplinary mentoring program supports the success of Chicago-are early career women in STEM
Join a growing local Chicago-area community that is committed to diversity and inclusion in STEM!
STEM Circuits combines key aspects of peer mentor circles and mentoring networks, encouraging faculty participation in an informal setting without an ongoing time commitment.
The program is open to students, postdocs, faculty, and staff from Northwestern and other local academic institutions, as well as STEM industry professionals.
Our programming provides participants with career and professional development opportunities that are not part of the typical graduate student or postdoc experience.
Participants will grow their professional networks and their team of mentors, while connecting with a community that is committed to developing tomorrow's women leaders in STEM.
Starting in Fall of 2020 through Spring of 2021, we will meet on a monthly basis using an online format.
Meetings will typically involve a speaker or workshop with occasional break-away small group discussions.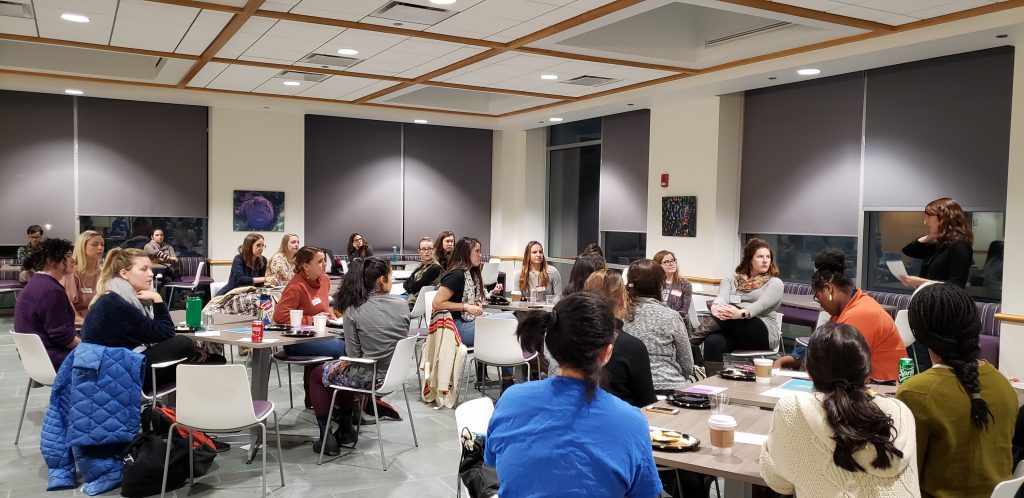 A message from the STEM Circuits Organizing Team
Thank you for interest in the STEM Circuits Program. The summer is going by fast and we cannot wait to welcome you back in the Fall with our annual (now virtual) STEM Circuits Kick-off event!

Our goal of the STEM Circuits is to help our attendees build a diverse and inclusive STEM community starting with Chicago-based universities, while providing ongoing career and professional development opportunities. We are inviting you to fill out a quick survey for the 2020-2021 STEM Circuits Program. Particularly as we transition to a virtual format, we want to hear from you how best we can design the circuits. The survey will only take 2-4 minutes to complete and will allow us to best design the 2020-21 program for you!

Please do not hesitate to reach out should you have any questions, suggestions, or interest in joining our team of volunteers.
Thank you so much for your time and see you in the next academic year.
Fill out the 2020-2021 STEM Circuits Survey HERE
Sincerely,
The 2020-21 STEM Circuits Organizing Committee
Farners Amargant i Riera, PhD
Postdoctoral Research Fellow
Department of Medicine
Feinberg School of Medicine
Northwestern University
Kacey Suvada
Neuroscience (NUIN) PhD Candidate
Department of Physical Therapy and Human Movement Sciences
Feinberg School of Medicine
Northwestern University
Caren Nassif
MA Candidate
Department of Psychiatry and Behavioral Sciences
Feinberg School of Medicine
Northwestern University