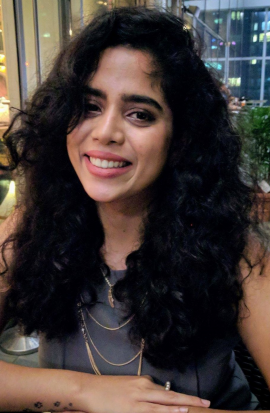 My first ever exposure to wet lab work at the age of 17, on the efficacy of antifungal components in wall paint, was a small undergraduate project for an inter-college competition. Weirdly, I don't remember if we won but I remember falling in love with the process of planning and executing experiments and the eagerness to go into lab every day. Now, as a postdoctoral fellow at Alan Hauser's lab, the world of microbiology still entices me, and I enjoy every moment of it.
I completed my BSc (Hons) and MSc degree at the University of Mumbai. During my master's, I was awarded the Indian Academy of Sciences Summer Research Fellowship to study the phosphate utilization pathway in yeast at the Tata Institute of Fundamental Research. After my master's, I worked for a year at the Hinduja hospital laboratory where I published my first paper on the prevalence of carbapenemases in the local population. At this point, I decided to do a PhD and moved to Singapore to join Kimberly Kline's lab at Nanyang Technological University. We worked on how Sortase A, a membrane enzyme and important virulence factor, localizes to specific domains within Enterococcus faecalis.
Once again, knowing that change every now and then is important for growth, I moved my life to the other side of the globe and experienced my first winter this January. I joined the Department of Microbiology and Immunology at Northwestern University at the beginning of 2019 and now work on the type 3 secretion system that plays a key role in the pathogenesis of Pseudomonas aeruginosa.
My long-term career goal is to enter the scientific publishing field and I want to spend my time at NU carving my niche in the relatively large field of bacterial virulence factors while building my network within the scientific community. Being a part of the Chicago Women in STEM initiative, I believe, allows me to do both with the added advantage of engaging with amazing female scientists from diverse backgrounds.